ReBuilder® rebuilds your nerves from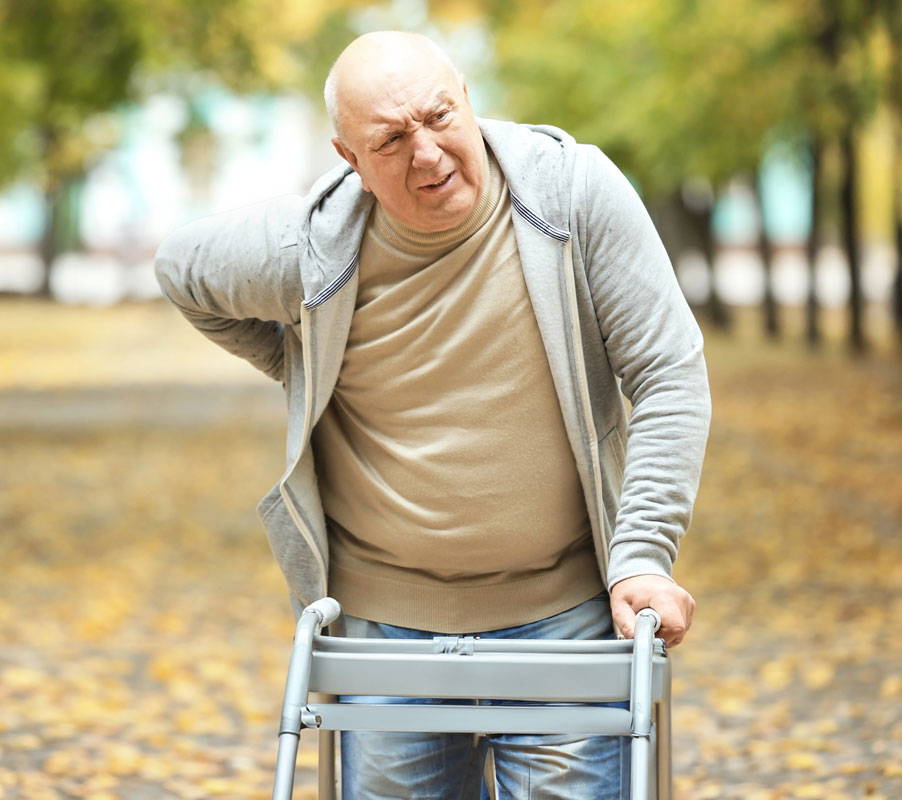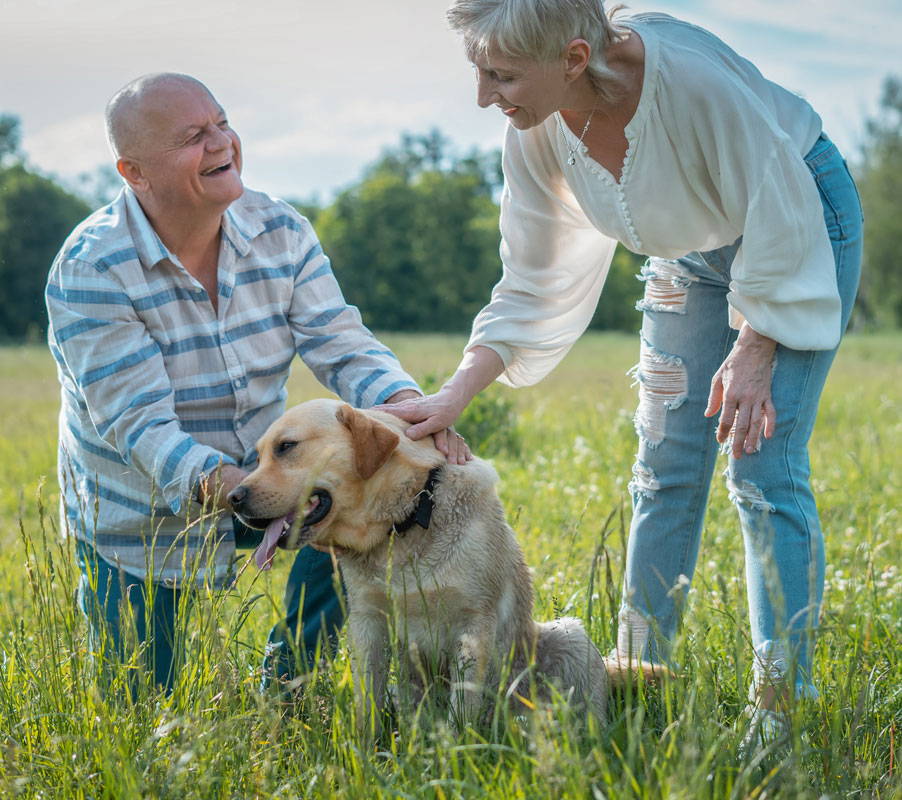 Eliminate your pain with your first 30 minute home treatment
Get Relief from YOUR Pain and Painful Numbness with the ReBuilder®
Unique, comfortable in-home treatment.
Prescription Strength
94% Success Rate
Affordable - as low as $2.17 a day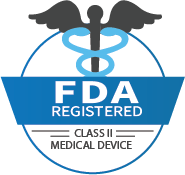 FDA-Registered
Medical Device
Indicated For:
Chronic unmanageable pain
Painful numbness
Post-traumatic pain
Post-surgical pain
Increases blood circulation
Preventing or slowing muscle atrophy
Increased range of motion
Relaxation of muscle spasms
Muscle re-education
Increasing muscle mass
Post-surgical prevention of blood clots in veins
How does the ReBuilder work?
The ReBuilder stimulates both nerves and muscles. By stimulating the dysfunctional nerves, the ReBuilder provides pain relief.
By stimulating the muscles in the calf, the venous muscle pump is activated which increases blood flow and circulation that results in de-oxygenated blood cells and toxins being carried away, while bringing in new, healthy blood back into the feet.
Electronic Muscle Stimulation
Increases blood flow
Improves balance
Eliminates local pain
Eliminates global pain (endorphin releases via ReBuilder signal)
Electronic Nerve Stimulation
The ReBuilder incorporates artificial intelligence (AI) to enhance its functionality and efficiency.
The AI algorithms embedded within the ReBuilder medical device learns from every interaction, adjusting its individual therapeutic waveform based on the user's everchanging nerve signals, both incoming sensory and outgoing messaging to the brain. The ReBuilder analyzes patterns in the nerve's reactions to its treatment and treatment effectiveness, allowing the device to adapt and provide personalized therapeutic strategies. Over time, the ReBuilder's AI becomes more accurate and effective, offering a customized health solution that evolves alongside the user's progress.
The integration of AI in the ReBuilder offers a multitude of benefits for users. One major advantage is its ability to continuously learn and improve, providing a more tailored and effective treatment. This not only saves time and effort for the user but also ensures better results.
Moreover, the use of AI in the ReBuilder allows for faster and more accurate analysis. By analyzing large amounts of data and identifying patterns, the AI algorithms help make more informed adaptations of the output signals of the ReBuilder.
The ReBuilder's AI technology also offers a level of personalization that was previously not possible. With the ability to adapt and adjust to individual needs, patients can receive a treatment that is specifically designed for them, rather than a generic one-size-fits-all approach.
Additionally, the incorporation of AI in the ReBuilder helps to reduce human error and increase efficiency. By automating certain tasks and processes, healthcare professionals can focus their time and energy on more critical aspects of patient care such as nutrition, physical nerve impingements, poisons such as Agent Orange, Statins, co-morbidities such as diabetes, etc.
The use of AI technology in ReBuilder also opens up future opportunities for remote or virtual healthcare services. With the ability to collect data, analyze symptoms, and offer personalized treatment plans remotely, the ReBuilder can make healthcare more accessible and convenient for users. Future upgrades to the ReBuilder will be provided to users at no additional charge.
In conclusion, the integration of AI in the ReBuilder has revolutionized the way we can now approach nerve pain treatment. Its ability to continuously learn, personalize, and improve offers a more efficient and effective solution for those suffering from and those treating neuropathy. As technology continues to advance, we can only expect further innovations and advancements in the ReBuilder, providing hope for a better future for patients.
You can use the Adhesive Pads on various locations of the body for treatment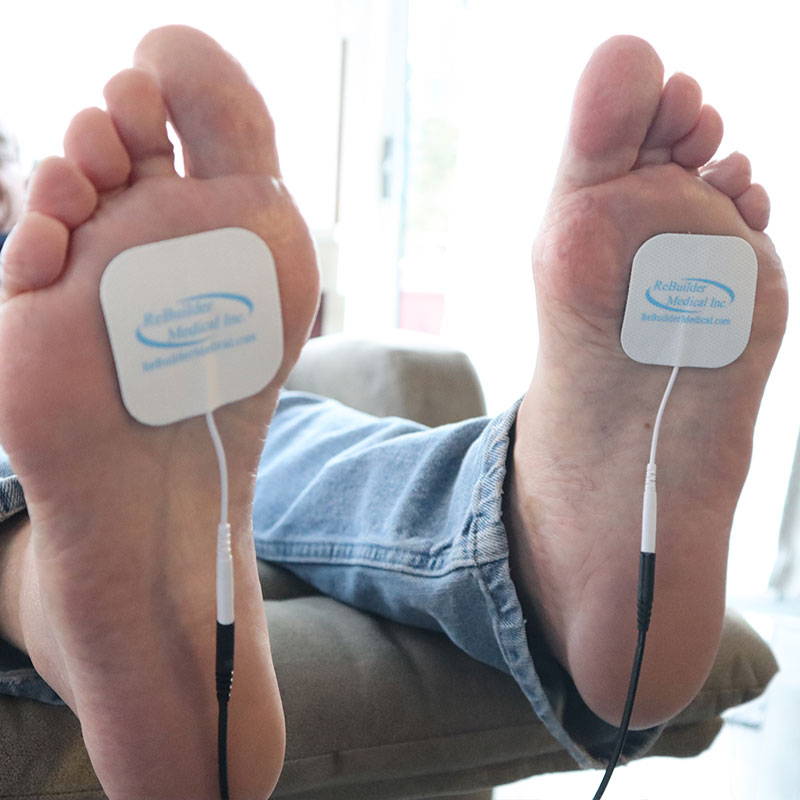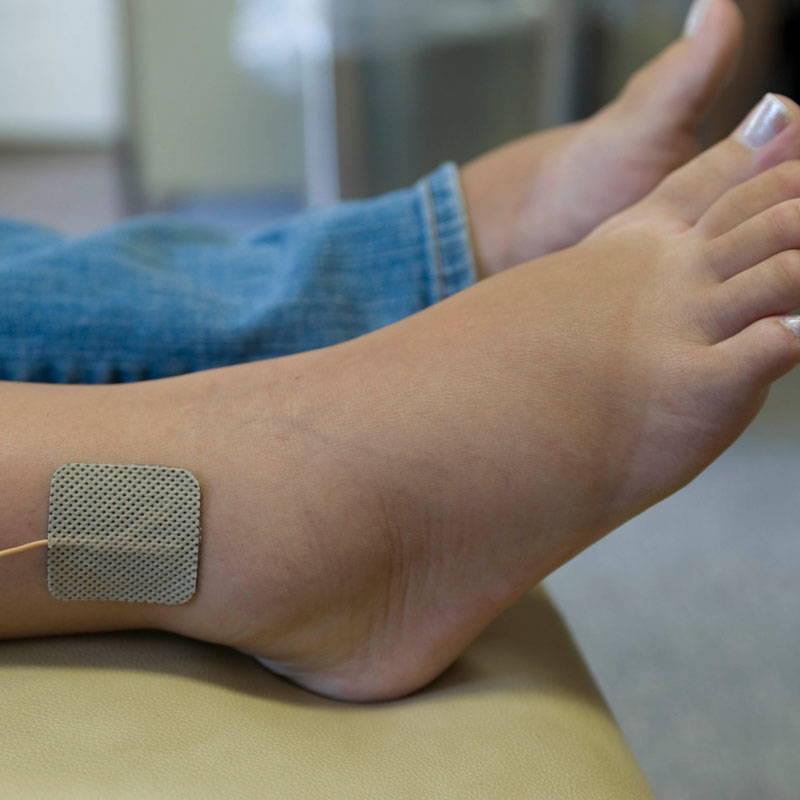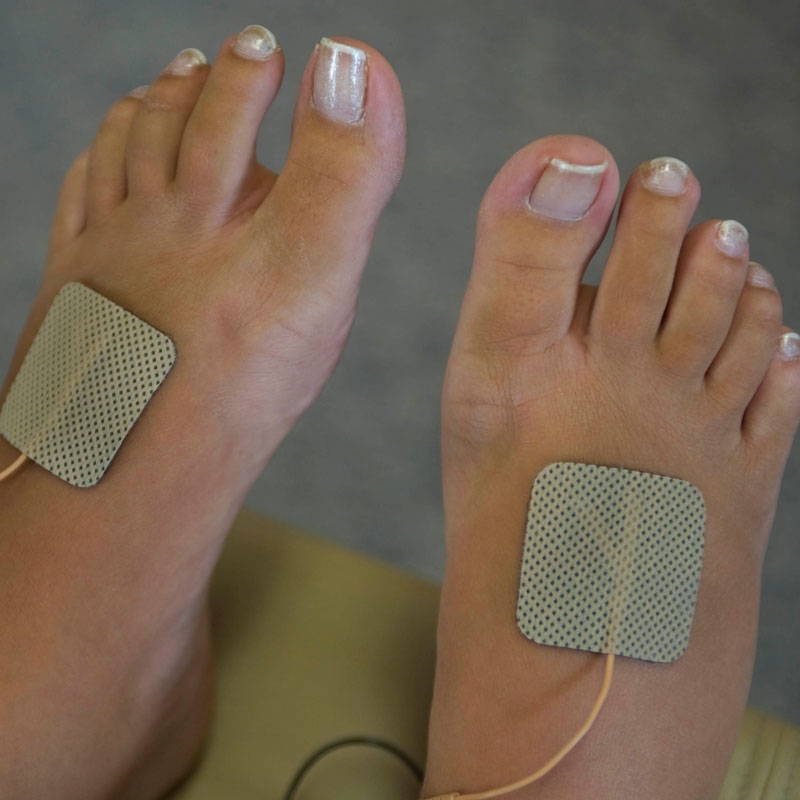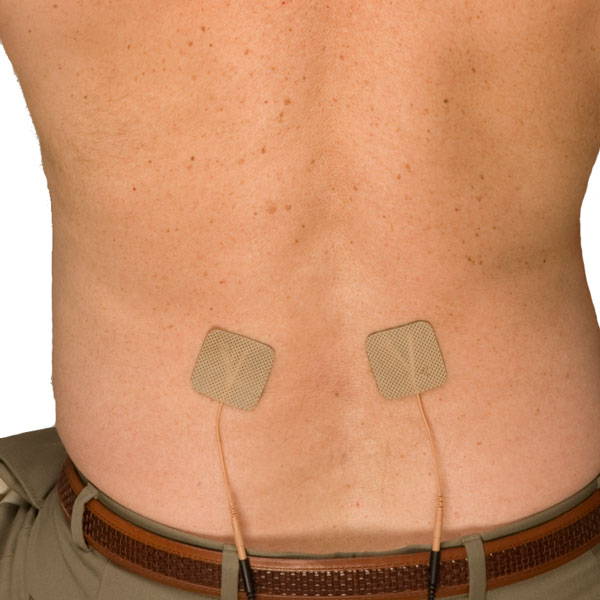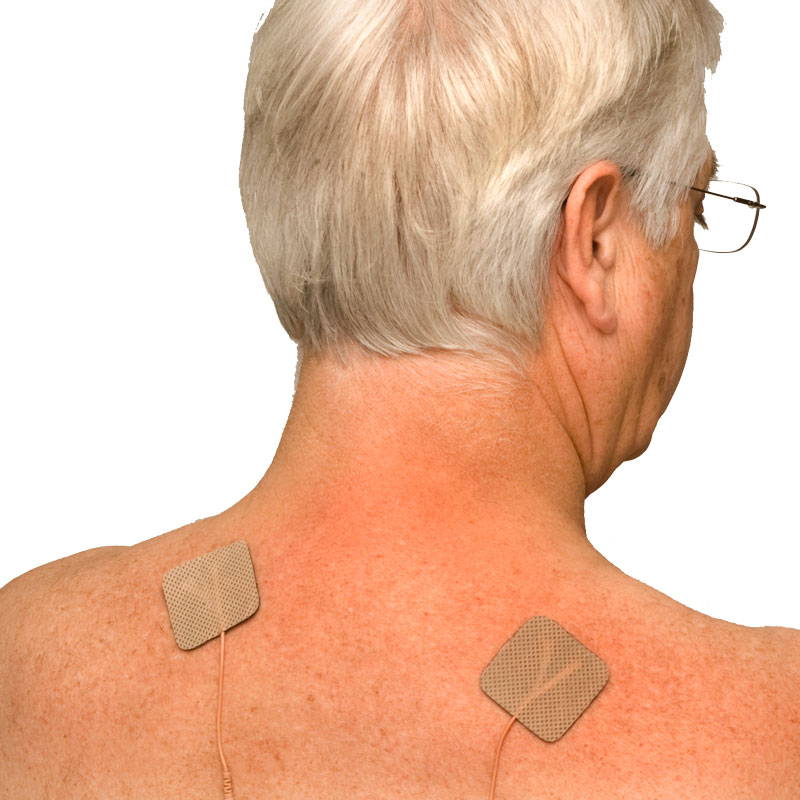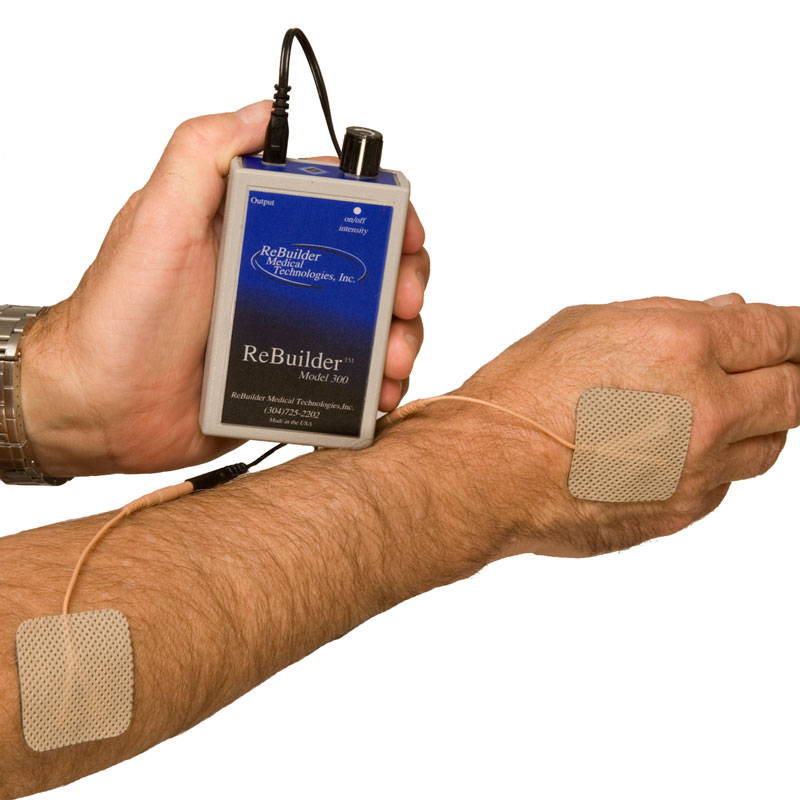 ReBuilder Accessories and Treatment Options
Medical Professionals choose these methods for applying the ReBuilder home therapy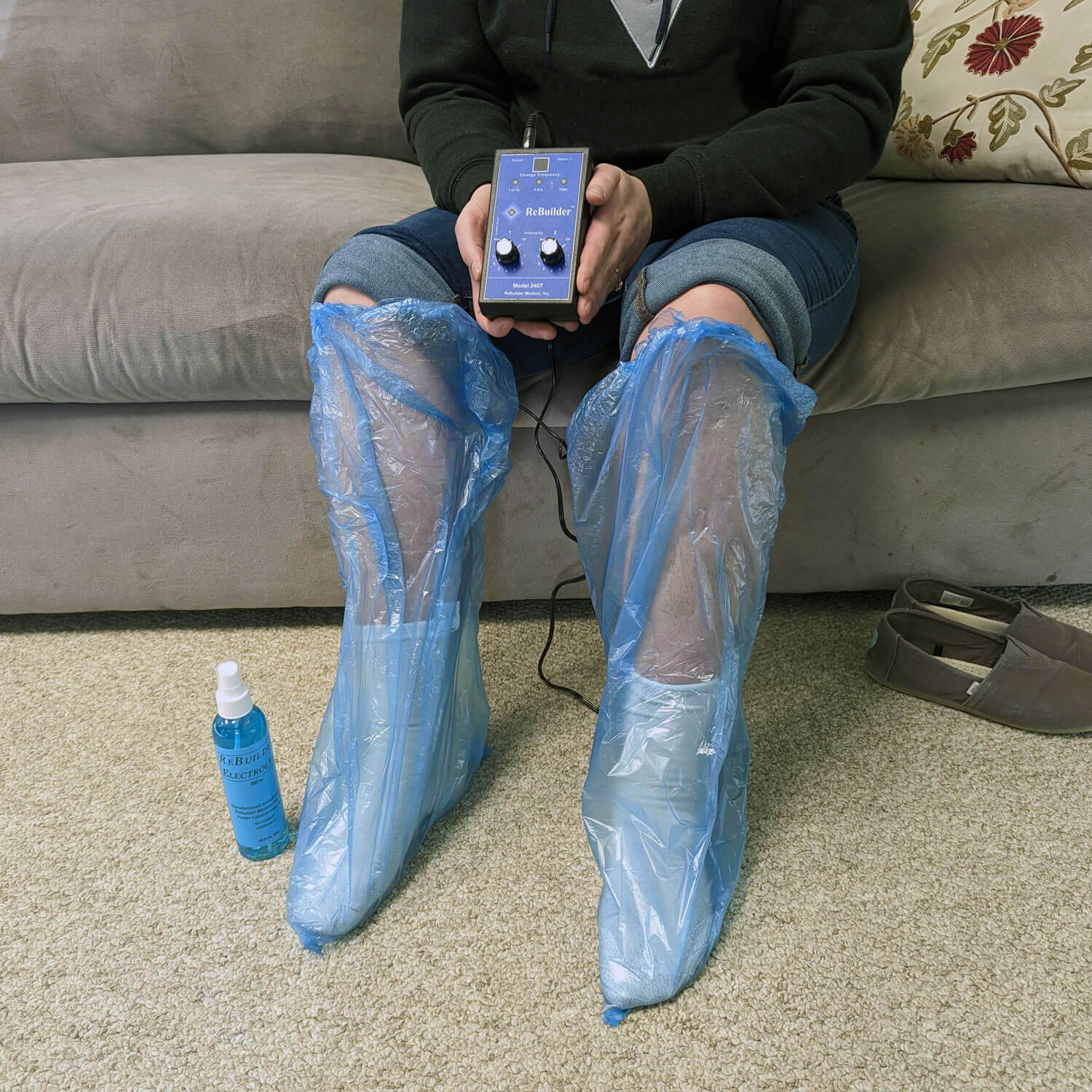 Patient using the ReBuilder® 2407 and conductive socks with disposable covers
Twin Compartment Footbath System
(warm water twin compartment technique. Footbath commercially available, not supplied by ReBuilder)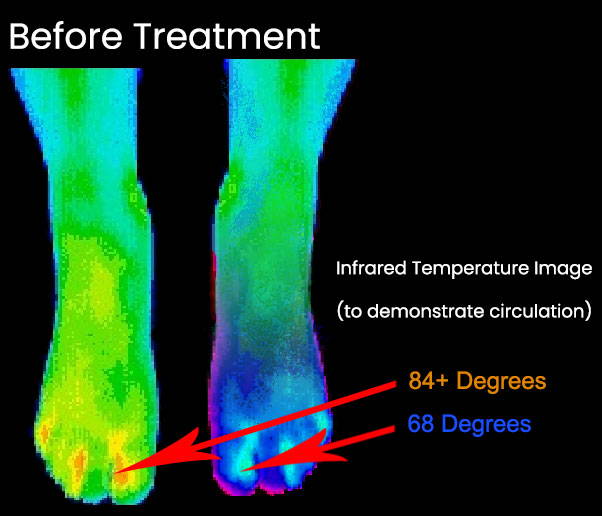 Increase Blood Flow Results
Patient B: Mr. J.M.
"My feet were not only painful but also swollen. It was unbelievable. I couldn't even walk right. Now my feet are almost normal. Before I couldn't even put slippers on, now I can walk and put shoes on. It's almost a miracle the way it works. I hope it doesn't stop working. I don't wake up crying every morning now (41 years old). I use it two times a day and have cut the drugs down considerably."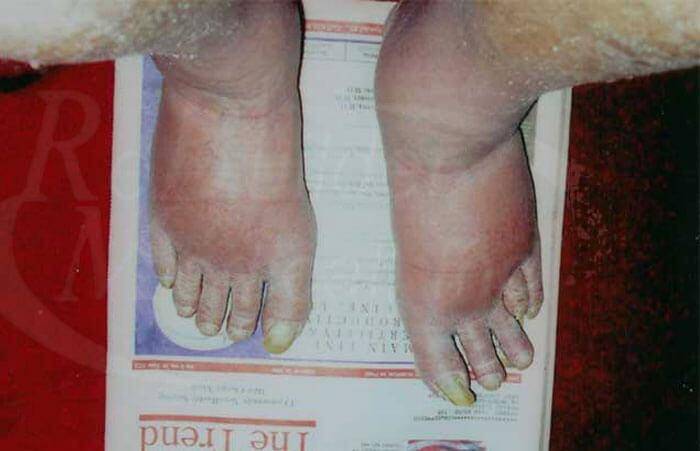 Before ReBuilder® Treatment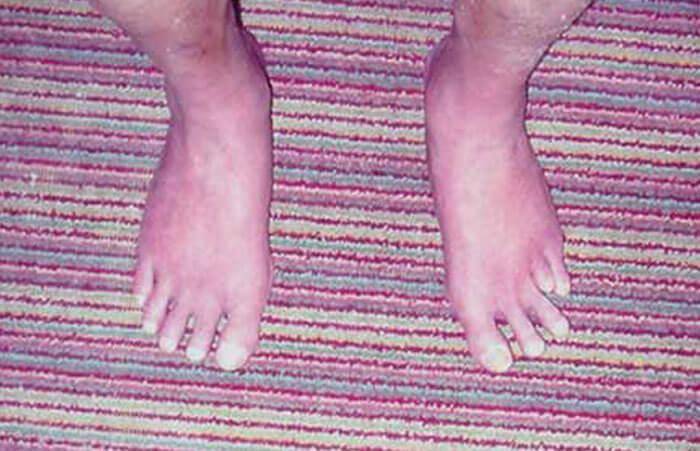 1 Week After ReBuilder®Treatment
Over 1,287,663 successful treatment sessions
have stopped or greatly
reduced pain symptoms
MIRACLE review with the ReBuilder®!
"A friend told me about this, so I got it, and it's the biggest miracle I've experienced. I have feeling back in my toes, I don't have that stabbing pain. It's amazing!"
Mrs. Lacasse from California.
(2 minutes 41 seconds long)
Walking again after using the ReBuilder® within 2 weeks!
"Within two weeks of it arriving my father was using it daily, and he was up and walking...not just walking but pacing around... It really has been an absolute life-changer and a miracle for my father."

Roy Tucker from the UK with his father's ReBuilder experience.
AMAZING review with the ReBuilder® after their first in-home treatment!
"The ReBuilder actually works... I have no more pain in my left foot."
Rick from TN after using the ReBuilder for one week.
The ReBuilder® has changed her life!
"I had never used electricity to solve anything in my life, but I was willing to give this one a try... It changed my life for the better and I hope it will do the same for you."

Gail from CA has used the ReBuilder for years..
Dr. Tirri explains why he chooses ReBuilder®.
Dr. Tirri uses the ReBuilder pain associated with peripheral neuropathy and fibromyalgia. Not like a common over the counter TENS device available at your local drug store, nothing treats his patients as well as the ReBuilder.
About the Inventor and Founder
ReBuilder 300
Single Output
Applied to one area of the body
(such as feet or hands)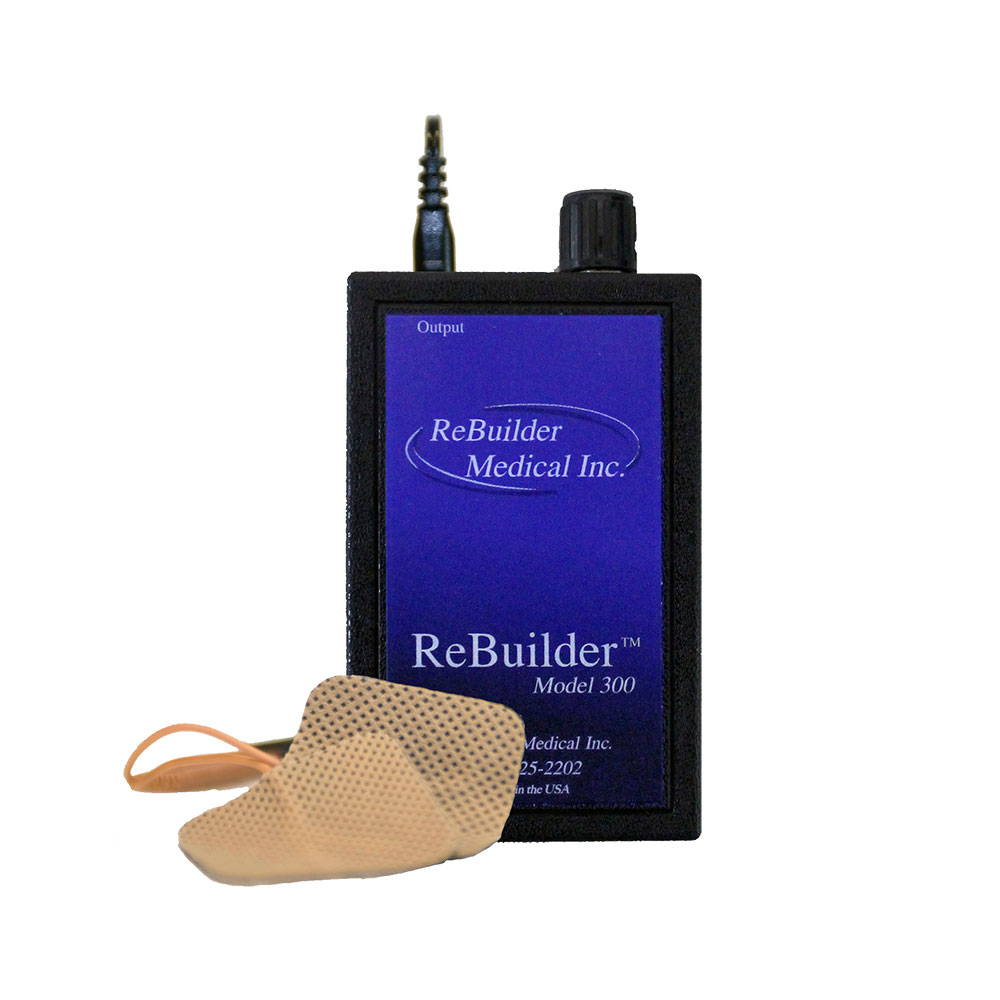 ReBuilder 300 Device
1 Lead Wire
8 Adhesive Pads
2 Non-Adhesive Pads
Carrying Case
Complete Instructions
ReBuilder 2407
Double Output
Applied to multiple areas of the body at the same time
(such as feet, hands, knees, elbows, and back)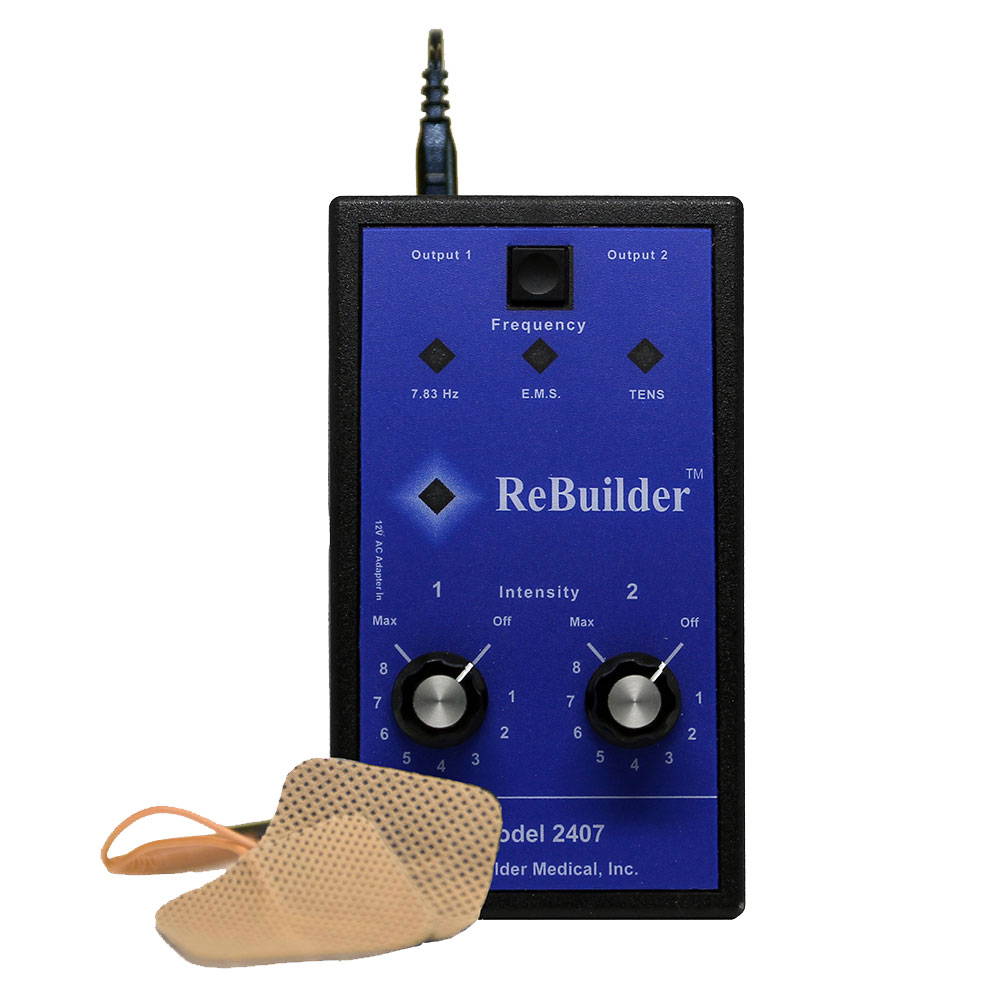 ReBuilder 2407 Device
2 Lead Wires
8 Adhesive Pads
2 Non-Adhesive Pads
Carrying Case
Complete Instructions
ReBuilder 2407 Deluxe Kit

Double Output
Applied to multiple areas of the body at the same time
(such as feet, hands, knees, elbows, and back)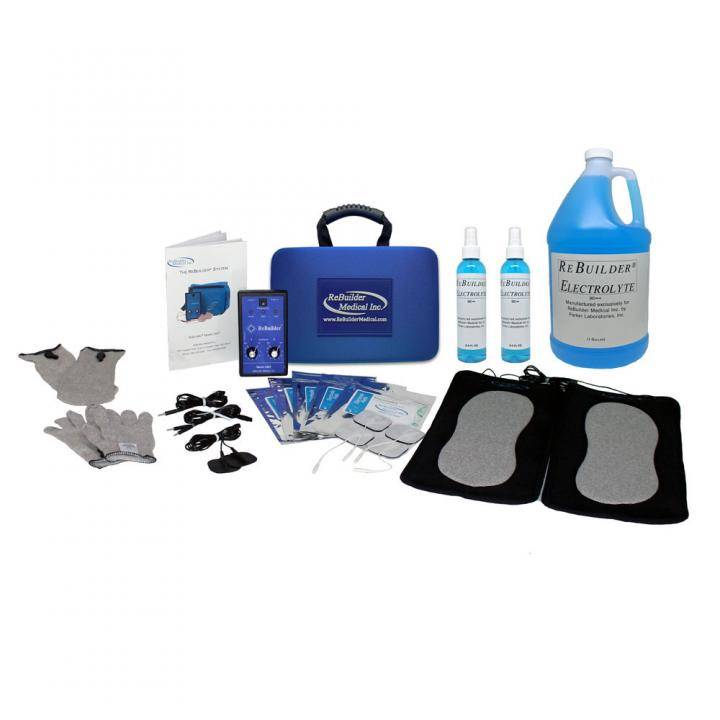 ReBuilder 2407 Device
3 Lead Wires
4 Adhesive Pads
2 Non-Adhesive Pads
Carrying Case
ReBuilder Conductive Socks
ReBuilder Conductive Gloves
FootPads
Gallon of ReBuilder Electrolyte
2 x 8.5oz ReBuilder Electrolyte
10 Additional Pair Adhesive Pads
Complete Instructions

FDA Registered
ReBuilder Medical, Inc. is FDA Registered since 1986.

5 Year Warranty
We protect your investment! Every ReBuilder® comes with a 5 year warranty and lifetime complimentary support.

100% Money Back Guarantee
We are so confident in the ability of ReBuilder® to work for you that WE OFFER A 90 DAY - NO QUESTIONS ASKED - MONEY BACK GUARANTEE.

Same Day Shipping
Orders received by 3pm ET ship same day.
QUESTIONS? (877) 717-5487
Office hours available Monday-Friday 8:00am-6:00pm EST.